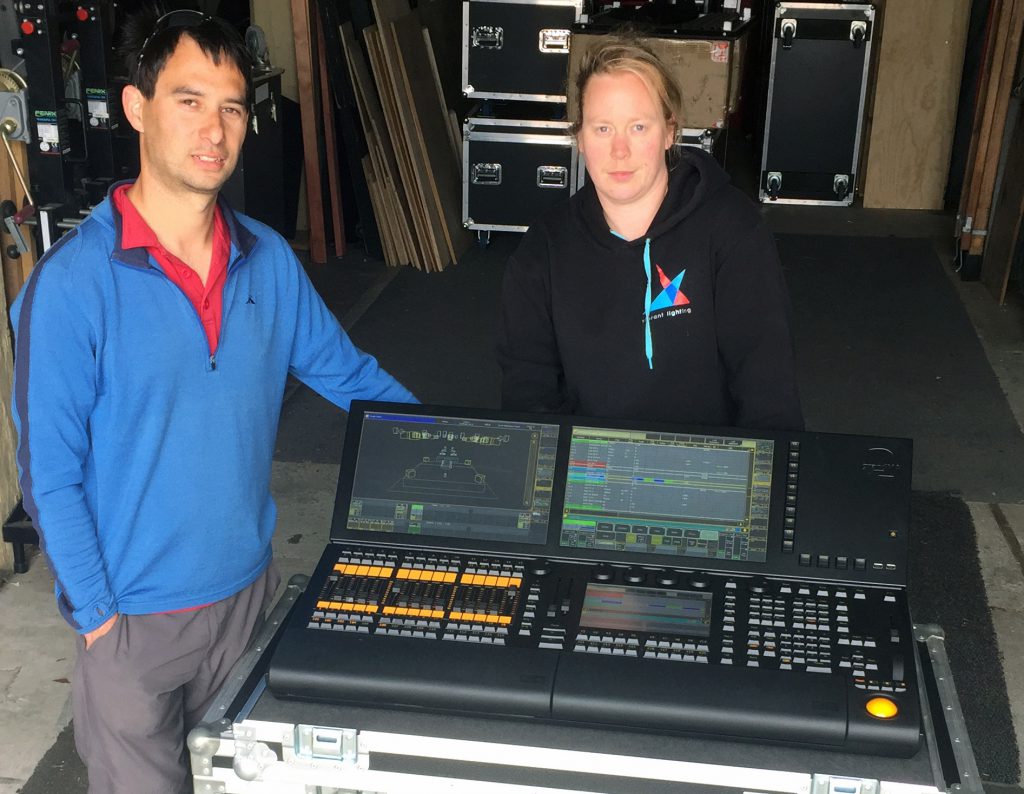 New Zealand's Vibrant Lighting have been looking to replace their Hog 3 console with something newer and because the business has grown over the last few years, they were looking for a more capable console.
"Initially, we looked at the Hog 4 range," remarked Sarah Edwards, Designer/Project Manager at Vibrant Lighting NZ. "I have used the Roadhog 4 and the Full Boar for both theatre and live, and given their prevalence in NZ, they seemed like the only other sensible option."
Fortunately for Sarah, Show Technology's presence in New Zealand is quickly changing the status quo when it comes to lighting equipment availability and consequently MA Lighting consoles are starting to take over.
"We looked at the capabilities and support for both consoles, and MA has better support and is generally more powerful," said Sarah. "I had been working as an MA2 programmer for a few years in the UK before moving out to NZ, so I am very familiar with the capabilities of the software, and the support available. I have designed a variety of networked systems in the UK for venues using the MA software, and I already own a MA onPC command wing, and a 4 port onPC node, so it made sense to expand the existing system."
A MA2 light was purchased as it is ideal for a small company such as Vibrant and as Sarah is always looking to save time on site, she uses the MA3D to pre-visualise their larger jobs and theatre shows.
"The onPC set up is great, but it is limited in terms of control surface," Sarah further explained. "The modular aspect of the onPC is great, but on larger events, the lack of buttons eventually slows you down. I use a lot of buttons and macros in my programming set ups, and it's nice to have space to put them. It is a much faster to set up than the onPC: all in one box, on wheels. We also saw the opportunity to hire the console within the South Island, as MA is a common lighting rider request these days. I have worked at a number of venues with the MA ultralight, but the loss of a screen always seemed like a compromise too far. I miss the level wheel! And the internal UPS and keyboard are handy to have."
Sarah commented that she has always been impressed with the networking ability of the MA software, and the ability to create all sorts of macros to assist your programming or show operation.
"I'm just starting to experiment with LUA. There are so many ways that you can approach the software, and several different ways to achieve the same outcome, it doesn't really matter what desk background you come from – you will find workflow fairly easily. Even at a basic level, copying values between cues and fixtures is very quick and simple. I can set up different user profiles, so depending what I am programming, I can switch my set up to suit. I'm also fairly dyslexic so the option to colour views is very helpful when it comes to quick navigation. There are so many options within the software, it's all there for you to use however you would like."
As Sarah's background is mainly as a console programmer in the UK, she has programmed the old Strand 520i consoles for theatre productions and has used Hog, Avolites, Compulite and ETC consoles. The transition to the MA platform was very simple although she does admit to spending a lot of time 'nerding out' on share-net reading and learning!
"It opened my eyes fairly quickly to what is possible," she said. "I am more or less self-taught, but I did work with a few ex MA employees in the early days which helped me along. Every software release brings new functionality so learning the console is a constant process. Tristan and the rest of the crew are happy working on it, and enjoying the process of figuring out what works well for them. Our two main consoles are now the same brand, and for them it's easier than switching between consoles all the time."